What is Avantex Paris?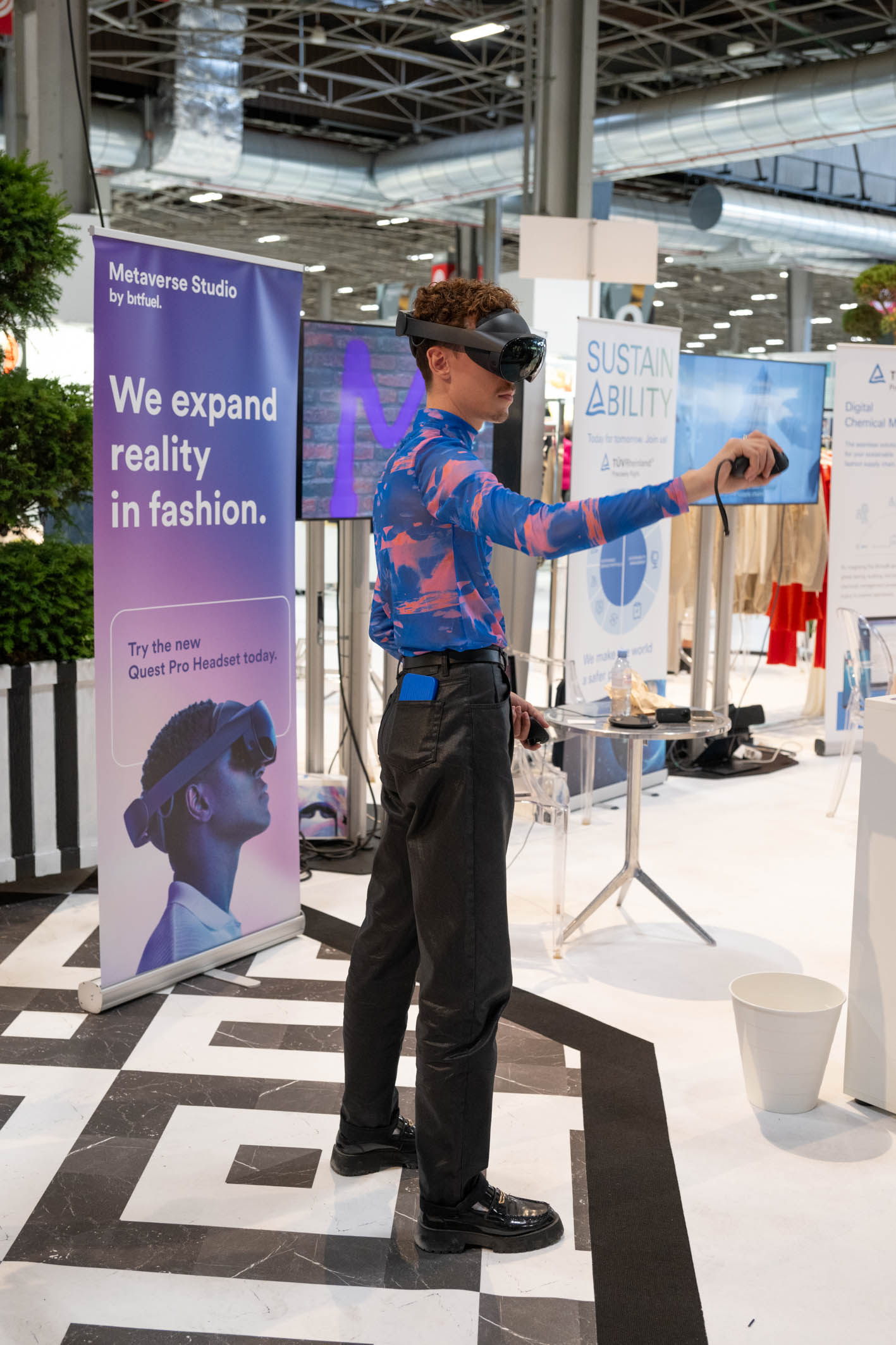 Avantex Paris, a trade show providing solutions for a more advanced and sustainable fashion industry, is held once a year in July during the Texworld Evolution Paris edition.
Since 2015, Avantex Paris brings together the international fashion-tech offer by integrating all the innovations that, from upstream to downstream of the industry, allow to accompany the ecological and digital transformation of the fashion actors.
3D design, artificial intelligence, blockchain technologies, big data, miniaturization of complex electronic components, 3D printers, biofabrication, have generated new services and materials. Avantex Paris, which brings together startups and innovative service companies that are committed around key themes such as recycling, transparency or virtualization, offers a window on the fashion of tomorrow.
Avantex Paris exhibitors are selected for their ability to provide brands and suppliers with new processes, technologies or materials. 
Innovative offers to address specific goals such as: making the fashion industry less polluting and more circular, making the textile and clothing industry more resilient, enhancing transparency, improving product traceability, investing in new virtual spaces in accordance with the evolution of practices and bringing fashion into the metaverse.
In order to highlight the players who support and accompany the necessary digital and ecological transformation of the industry, Avantex Paris is now structured around 2 concepts:
Le HUB, which brings together suppliers of innovative solutions and services for the fashion industry in a completely open area,
ReSources, which showcases suppliers of innovative and eco-responsible products, materials and manufacturing techniques in an exhibition area specially designed to host their samples and showcase their innovations.
Le HUB : innovative services & solutions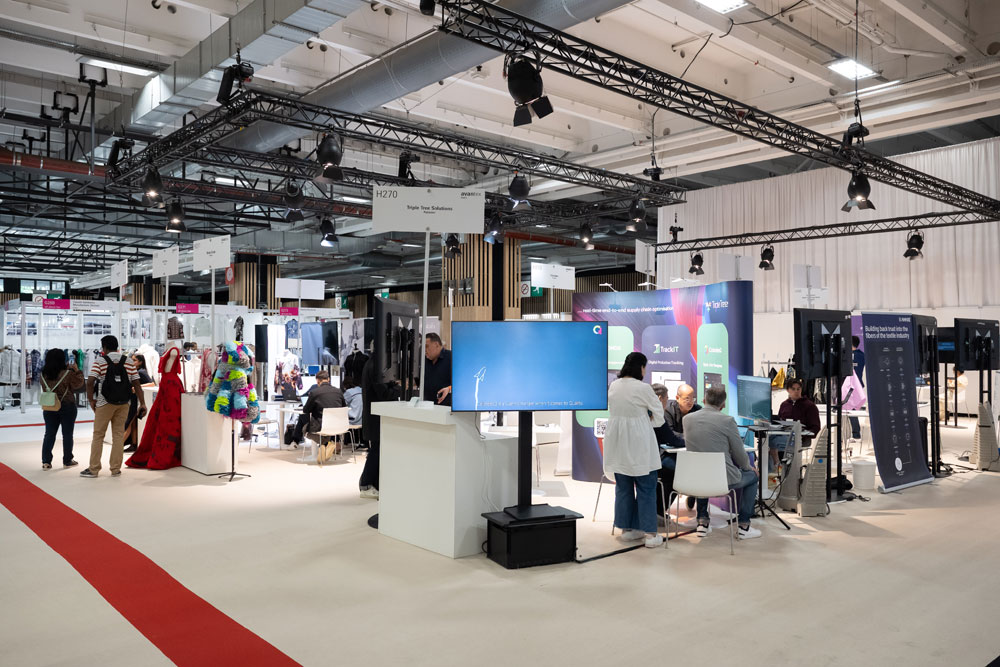 Our ambition?
Focus on solution providers who support the digital and ecological transformation of the fashion industry.
To this end, we are creating a new area: Le HUB, an open space that gathers suppliers of innovative solutions and services that meet the fashion professionals needs.
The concept?
On Le HUB, each exhibitor has a minimum surface area of 6sqm in a completely open space.
Each space is provided with : 
1 counter,
1 table,
2 chairs,
1 waste bin,
1 triple socket,
1 TV with stand.
How much?
From 2,800€ excl. VAT.
Who is Le HUB made for?
Software, platforms and processes editors, agencies, studios and innovative design offices, working on themes such as: 
supply chain transparency and management, 
reduction, recycling and reuse of unsold or used textiles and clothing,
digitalisation, virtualisation, tokenisation, 3D creation or prototyping 
optimisation and pooling of resources,
process optimisation (prototyping, sourcing, manufacturing, marketing, inventory management)
"Web3" technologies for fashion (Metaverses, NFTs, crypto-currencies, blockchain technologies, decentralized applications, 3D design, 3D softwares, AI, augmented reality, holograms, virtual models and avatars, etc.).
ReSources : innovative products & materials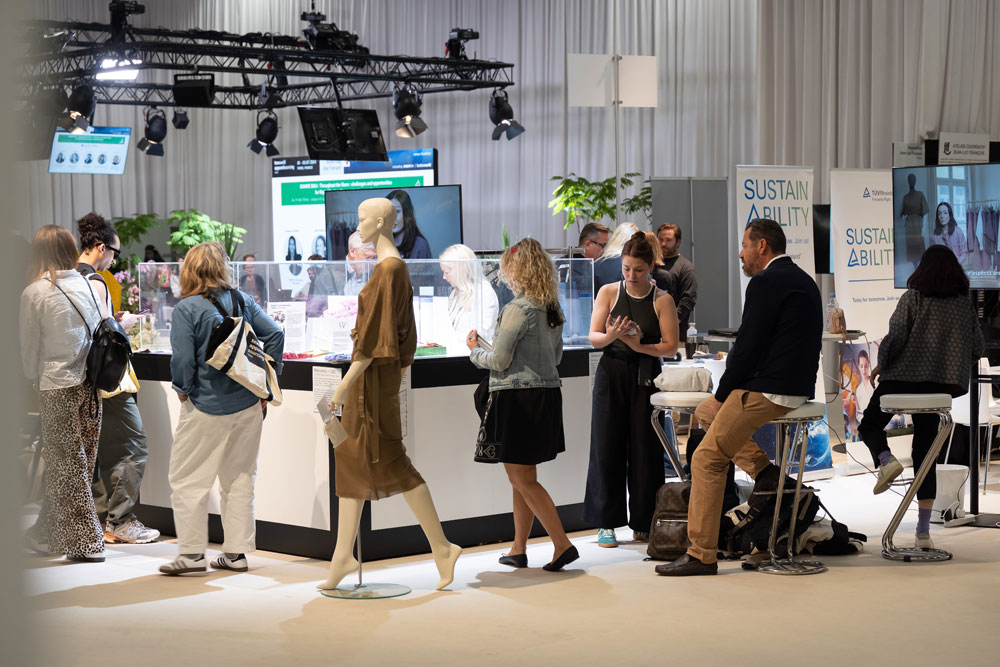 Our ambition?
Highlight and gather suppliers of innovative and eco-responsible products, materials and manufacturing techniques in a dedicated exhibition area of the fair.
The concept?
ReSources is not a booth but a 1sqm podium specially designed to host your samples and showcase your innovations combined with a presentation of your company and a QR code.
ReSources is a 100% phygital offer providing great flexibility to suppliers and editors of innovative textile products and supplies. Indeed, it enables exhibitors to present their products to visitors and be contacted by them even if they do not physically attend the show.
How? By using the QR code linked to our partner's digital platform Foursource, visitors will be able to get in touch with exhibitors, obtain additional information on their company and the samples displayed on the fair.
How much?
990€ excl. VAT.
Who is ReSources made for?
Suppliers addressing the fashion industry with innovative soft materials and supplies that: 
involve research or inventiveness in relation to what already exists,
incorporate innovative processes (biofabrication, multi-material recycling, 3D printing or knitting),
integrate new materials that are not yet widely used in the manufacture of fashion products (electronics, various food waste, mycelium),
are vectors of new functionalities (accelerated biodegradability, thermoregulation, cosmetics and various treatments).
Who is Avantex Paris for?
All fashion industry professionals working on the future of fashion!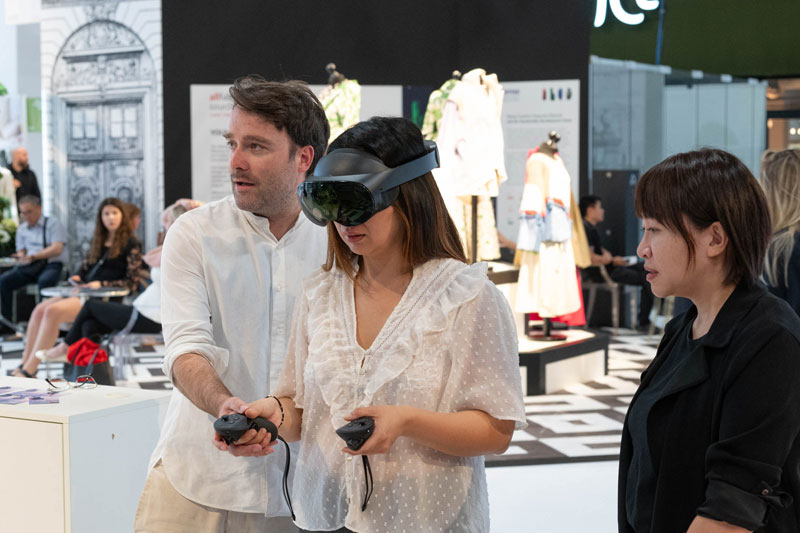 SHOWCASE your latest innovations and technologies to maximize and develop your brand exposure.
CONNECT in person with buyers and decision makers from ready to wear brands, distributors and fashion houses.
POSITION your company as a key player to launch innovative initiatives for the future of fashion.
ENRICH your professional network thanks to the dynamic created by the Messe Frankfurt Shows.
TAKE PART in prospective conferences to build the fashion of tomorrow.
ACT for an advanced and more sustainable fashion industry.
Avantex Paris is the right place for you if you showcase…
Seize the opportunity to meet buyers from major brands!
They visit Avantex Paris:
Armand Thiery, Benetton, Bershka, Bonprix, Chanel, Etam, H&M, Hugo Boss, IKKS, La Halle, La Redoute, Longchamp, Maje, Mark & Spencer, MaxMara, Moncler, Monoprix, Naf Naf, Next, Oysho, Stradivarius, Zadig & Voltaire.
68 % of buyers are European - Top 6 countries: France, China, Italy, Spain, United Kingdom, Türkiye.*
88% of buyers are decision-makers (or take part in the decision-making process) in R&D, Design, Production / Quality, Purchasing, Marketing / Communication, Sales / Export, Retailers…*
75% of buyers visit the show to meet new suppliers.*
AWARE (The Netherlands) – July 2023

Koen WARMERDAM, Co-Founder and Director

« Being recognized with the Avantex Fashion Pitch' Grand Prize is such an honor for Aware™️'s team. We developed a solution to support brands and suppliers to have trustworthy data, which helps them to make sustainability claims with confidence and consumers to make better and more conscious decisions. »
FINGERTIP (Singapore) - February 2022

Pierre RABOTIN, Marketing Manager

« Great opportunity for us to introduce our solution Fingertip to whole new audience. We also got the chance to speak at an interesting roundtable with some of our industry's key players: AI, blockchain and how new technologies support a more virtuous and transparent fashion. During the fair we discussed with our visitors how cloud technologies can help make our supply chain more resilient and increase transparency and collaboration. »
COLOREEL (Sweeden) - September 2018

Magnus HELLSTRÖM, Marketing and Sales Director

« We had a lot of very high quality visitors. We are very happy, we reached our target, the distributors. Some of them came from China, Japan, Taiwan and India, but also from Eastern Europe, which is the current trend. »
INDUO (France) - February 2018

Chloé VANESSE, Business Strategist

« Anything to do with new technology is a big hit. Visitors are curious and want to know how it works. ».
EUVEKA (France) - February 2017

Audrey-Laure BERGENTHAL, Founder and CEO

« The high quality of the visitors and the very high traffic connected us to the international market earlier than expected. The reception of the product in the export market (especially India, China and Bangladesh) was very positive, with a high chance of conversion to purchase. »
WORLFORD (Austria) - February 2017

Clara Mattioli, Global Communication

« We are surprised and delighted to see that the circular economy is a known topic, recognised as a real innovation lever for fashion, because consumption is changing and the desire to change things is great. This is very encouraging for our approach. »
CLARA DAVIS DESIGN (Spain) - February 2020

Clara DAVIS, Founder & Sustainable design Specialist

« There is a real interest from visitors in the innovations presented at Avantex, and many good contacts with decision-makers that could potentially lead to interesting developments. »
RBX CRÉATIONS (France) - March 2022

Anne REBOUX, Co-Founder

« The European calls for projects have really helped us to accelerate, in particular the ELIIT (*) call for projects which we were introduced to following a presentation at the Avantex exhibition, and which we benefited from following the submission of our partnership with the DITF, the largest textile research centre in Europe, to combine their HighPerCell® technology with our work on agriculture and the Iroony® hemp cellulose. » (*)Call for proposals ELIIT Project (European Light Industries Innovation and Technology)
AALTO University (Finland) - September 2018

Pirjo KÄÄRIÄINEN, Professor and CHEMARTS Programme Manager

« We have had many interesting exchanges with European and Asian companies for future collaboration. We do not sell finished products, but we can help in the creation of new materials. Overall, the contacts were numerous and focused on the future of recycling and respect for the environment in fashion. »
TORQ LABS (USA) - February 2018

Julian HOLTZMAN, Director

« I was invited to present my project and at the last minute, on the last day, a large sportswear group offered me some great opportunities. »
MOROCCAN TECHNICAL TEXTILES CLUSTER – C2TM (Morocco) - September 2017

Omar CHERKAOUI, Member of the Cluster and of the ESITH School (Higher School of Textile and Clothing Industries)

« If Morocco is mainly seen as a country of subcontracting, the presence of the C2TM Moroccan Technical Textiles Cluster at a trade fair dedicated to innovation such as Avantex helps to change the perception of what the country has to offer. Around thirty professionals were very interested in our collaborative and innovative approach. »
CHINASTARS REFLECTIVE MATERIAL (China) - September 2019

Helen CHEN, Marketing Manager

« We are satisfied with our first participation in Avantex Paris, especially as we have been able to organise a very good fashion show. »
CORTEX (France) - February 2019

Claude CORBIÈRE, Director

« The participation is very international and it's getting better from session to session. »
COCO & RICO (France) - September 2018

Cléa POLAR, Founder

« I am very happy, there were only real professionals, no curious people, but a lot of potential customers. The synergy between the exhibitors is very good, they can be future partners. We have enriched our portfolio with real international customers, especially in Asia. Thanks to Avantex, we will be in London next month! »
SOFILA (France) - February 2018

Augustin BIDEAULT, Sales Director

« Our technical products and products from biological sources have been our greatest success. »
STUTTGART STATE ACADEMY OF ART AND DESIGN (Germany) - September 2017

Academy Representatives

« Several fashion stores have asked us to create marketing content for their spaces. We have been invited to Berlin for a hackathon and to Taiwan to design a clothing collection! »
They exhibit on Avantex Paris...
86% of our visitors satisfied with the contacts made at the show.*
76% of our visitors achieved the purpose of their visit, such as making new business contacts, seeing specific products or making purchase decisions.*
* July 2023

Avantex Paris also offers…
Avantex Fashion Pitch, the «fashion game changers» contest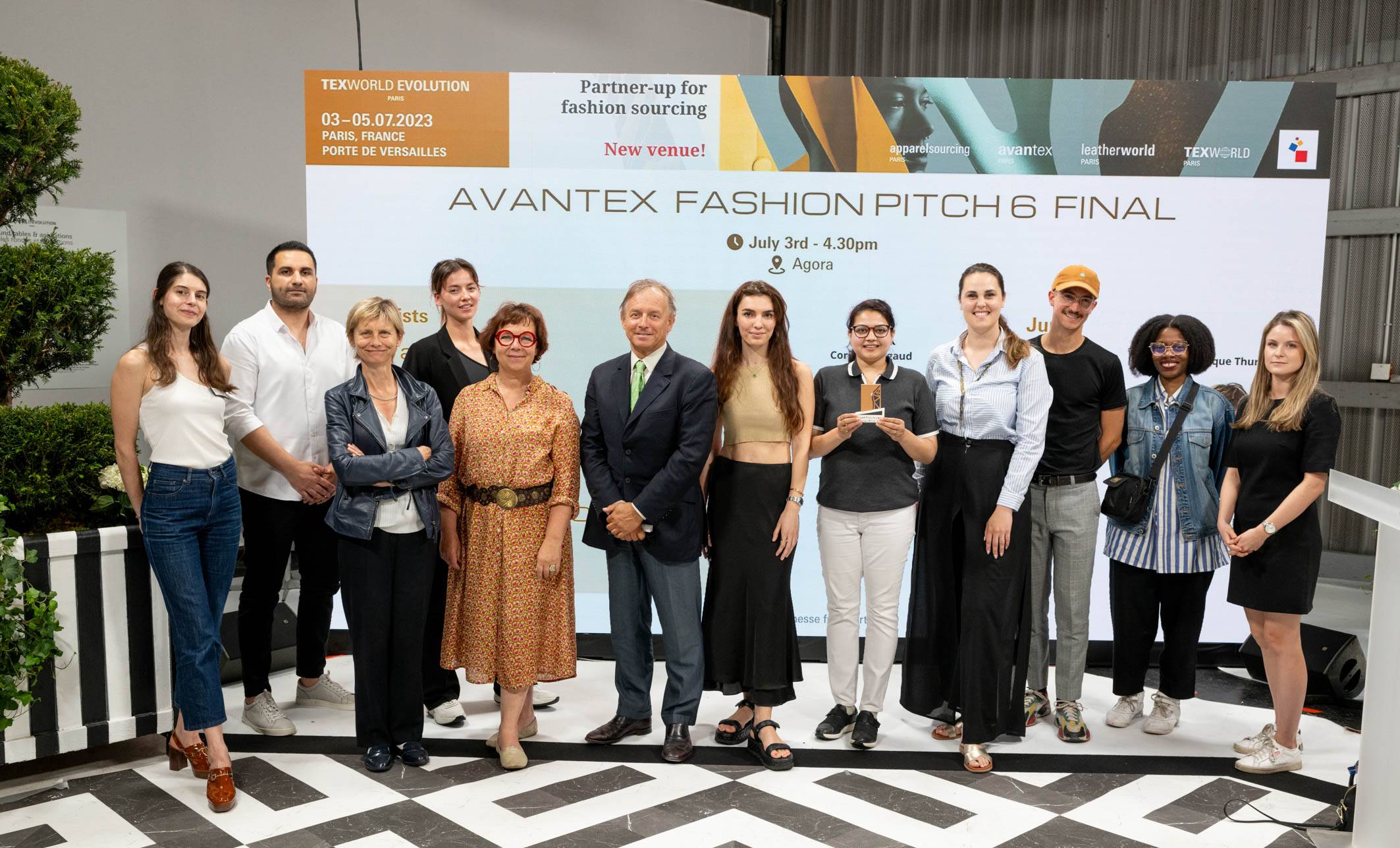 Avantex Paris invites people with innovative fashion and textile projects to take part in a pitch competition. 
Present your project and try to the grand prize, including a free exhibition booth at the next show!
Découvrez Aware™, gagnant de l'édition 2023 du Avantex Fashion Pitch
Networking
Networking evenings, participative round tables, VIP club, Avantex Paris implements different formats to allow you to meet innovation leaders renowned for their active contribution to the evolution of fashion.




Looking back to Avantex Paris July 2023 edition in Paris, Porte de Versailles
Our partners
Avantex Paris has, since its creation in 2015, implemented actions to promote research related to the textile and clothing industry. 
Schools (Amsterdam Fashion Institute - AMFI, Hochschule Niederrhein, Hong-Kong Institute of Technologies, etc.), designers and collectives (Bio-fabrication in Fashion, Zero Waste Fashion Design) are regularly invited to showcase their work.
More information